Date:

January 18, 2021 (Monday)

Time:

5:30pm - 6:30pm (HK Time)

Venue:

Zoom

Button Label:

REGISTER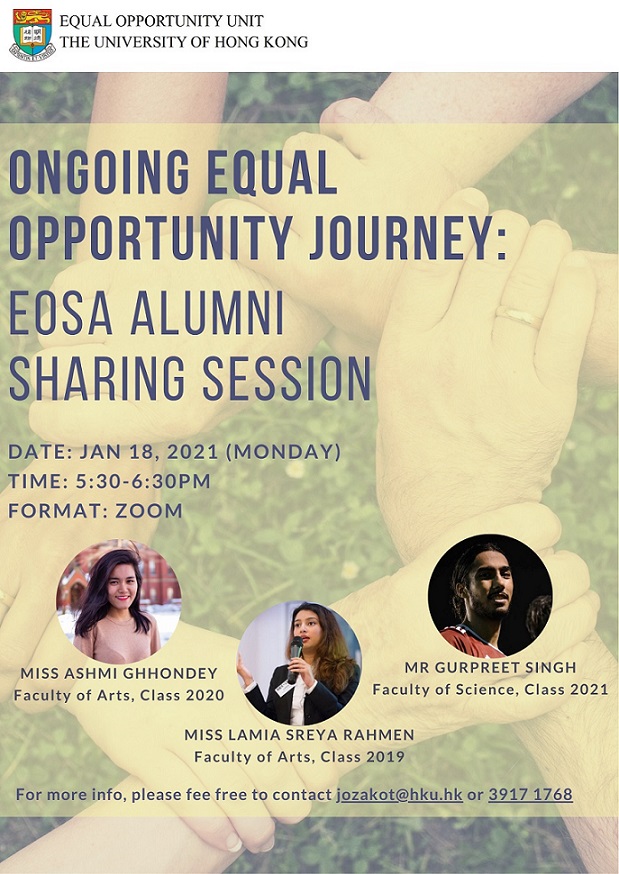 Ongoing Equal Opportunity Journey: Equal Opportunity Student Ambassador Alumni Sharing Session
You are invited to join our Equal Opportunity Student Ambassador (EOSA) Alumni, Miss Lamia Rahmen (Faculty of Arts, Class 2019), Miss Ashmi Ghhondey (Faculty of Arts, Class 2020), and Mr Gurpreet Singh (Faculty of Science, Class 2021), who will share with you their journeys in promoting Equal Opportunity since their HKU years.
Alongside her work to fight for the rightsof ethnic minorities in Hong Kong, Lamia is one of the founders of the social venture startup "Peeker", with an invention for persons with visual impairment. Ashmi will talk about her experience in promoting racial harmony through various social enterprises and NGOs that she has been a part of and her experience as a former EOSA member. Gurpreet is a Year 5 student majoring in Speech and Hearing Sciences and also the president of HKUSU Sports Association. He has a Youtube channel providing information about different cultures and religions, and their respective histories in Hong Kong.
Come and join us at this online sharing session to find inspiration on how you may make a difference by promoting equal opportunity!
All are welcome!
DATE: January 18, 2021 (Monday)
TIME: 5:30pm - 6:30pm (HK Time)
VENUE: Zoom